Share on facebook
Share
Share on twitter
Tweet
Share on pinterest
Pin
Johnny Cash is one of the most influential, meaningful, and respected artists in the history of recorded music. From his extraordinary series of commentaries on the human condition and American spirit to his monumental live prison albums, his impact on our culture is profound and continuing.
Cash is perhaps best known for his love songs, which span a range of human emotions, including puppy love, infatuation, heartbreak, and contentedness. Today, we'll be looking at some of the best Johnny Cash love songs produced by the singer.
So without further ado, here is my list of the best Johnny Cash love songs!
1. Cause I Love You
Cash's "Cause I Love You" was written as a duet for Johnny and his wife, June Carter Cash. The song was first recorded on September 10th, 1969, and remains one of Cash's most heartwarming numbers.
In it, he and June express their love for one another through song, singing about all of the acts of service they do for one another. "Cause I Love You" was most famously performed by Johnny and June on The Best of The Johnny Cash TV Show and remains one of the singer's most famous and beloved works.
2. I Love You Because
Initially released in 1959, "I Love You Because" is one of Cash's most tender love letters. The upbeat tempo emulates a racing heartbeat, while the simple melody allows one to focus on what's being said while still appreciating the simple, beautiful music.
Even though "I Love You Because" isn't one of Johnny's most famous works, it's a cult classic amongst Cash fans – and for a good reason.
3. You're the Nearest Thing to Heaven
"You're the Nearest Thing to Heaven" was released in August 1958 and features hauntingly beautiful lyrics and melodies layered with poetic overtones. The song was written by Cash, Jimmy Atkins, and Hoyt Johnson and reflected each of their influences individually.
With an upbeat tempo, a simple melody, and delicate background vocals, "You're the Nearest Thing to Heaven" seems more like a poem set to music than a song. It's the epitome of that classic country saying, "give me three chords and the truth."
4. Straight A's in Love
"Straight A's in Love" is a brilliant combination of blues and country and is one of my favorite Johnny Cash love songs. It was released as a single in December of 1959 and enjoyed prominent positions on both the Us Billboard Hot 100 and US Hot Country Songs.
The song contrasts many of Johnny's other works surrounding love with tongue-in-cheek lyrics and a humorous blues progression that gets the feet tapping every time. "Straight A's in Love" might have a sense of humor, but it's still an accurate depiction of love.
5. A Thing Called Love
"A Thing Called Love" was initially recorded by Jerry Reed in 1968 but was perhaps most famously recorded by Cash in 1971, where it became a No. 1 country hit in Canada. In it, Johnny regales about the power of love to bring a grown man to his knees over an unorthodox but undeniably country backing track.
"A Thing Called Love" might not be an original Johnny Cash love song, but, in my opinion, it's one of his best. It puts a lyrical spin on the traditional love song and brings to light the tenderness that we feel when we're deeply, madly in love.
6. I Walk the Line
There's no denying that "I Walk the Line" is one of Cash's most famous works. Johnny once again lets the lyrics shine with its simple melody and chord progression, sending a clear message of love. The key is ever-changing, reflecting the ups and downs of love that Johnny describes throughout the song, punctuated with haunting drones between verses.
7. Rose of My Heart
"Rose of My Heart" is one of Johnny's more somber numbers, and this theme is reflected in the lilting tempo and melancholy lyrics. Johnny describes the evolution of his love throughout life, not shying away from the difficulties that can arise from being in a committed relationship with someone you love.
It's inarguably one of Cash's most emotional works, and it's clear to see why it's popular amongst couples of all ages.
8. She Used to Love Me A Lot
"She Used to Love Me A Lot" is a refreshing number from Johnny, incorporating various styles throughout the song. It strongly features the electric guitar, which goes from being sad and heartbreaking one moment to exciting and rock-and-roll-esque the next.
The lyrics are simple but effective. Johnny describes the turmoil of falling out of love – or instead, someone falling out of love with him – with each line packing a hefty emotional punch. If you're ever in your feels, this is the perfect Johnny Cash love song for you.
9. I Still Miss Someone
Johnny juxtaposes a cheery tune with tragic lyrics in "I Still Miss Someone." While this track might make you want to get up and dance initially, take a moment to pay attention to the lyrics, which will change very quickly.
Other Johnny Cash love songs have made it clear that the man has had a lot of ups and downs in his love life, but none make it so obvious as "I Still Miss Someone." It's clear to see why it's one of the country legend's most famous works.
10. Happiness is You
"Happiness is You" incorporates an electronic keyboard into its leisurely but lively tempo. Following a simple, undeniably Johnny Cash chord progression, Cash sings in a melancholy baritone about his love.
This track makes us see the best parts about being in love, even when things get tough and our subconscious tries to sabotage us.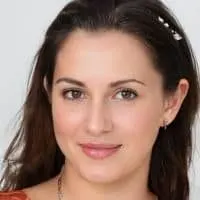 Alexandra loves playing the piano and guitar. She has always been a music lover, but it wasn't until she was in high school that she realized how much she loved to play. It allowed her to express herself without having to be verbally expressive, which is something she found very empowering.