Martin 2017 D-28 Dreadnought Acoustic Guitar Natural
Antique white binding Aging toner Forward shifting non-scalloped X bracing Dovetail neck joint Style 28 mother-of-pearl fingerboard inlays Solid headstock with square taper and diamond inlay. SP Acoustic 92/8 Phosphor Bronze Medium (MSP4200) strings Multi-stripe top and back inlays
Sometimes innovation is in the details and this is certainly true with Martin's re-imagined 2017 D-28
The D-28 is Martin Guitar's most iconic dreadnaught acoustic guitar. Ever since it premiered in 1931, guitarists of all skill levels have admired its deep booming sound and superb projection.
This review will highlight the Martin D-28's sound and build quality, playability, and technical specs. Read on to learn about the pros and cons of D-28, as well as what others say about it.
Make sure not to miss the Martin D-28 vs. D-18 showdown, which will decide the company's best dreadnought guitar of all time.
Happy reading!
Overview
The Martin D-28 is an upgrade on C. F. Martin & Company's original dreadnaught design of 1917. A very deep and smooth tone comes out of the guitar's extra wide and deep body, making it perfect for on-stage performances and studio work alike.
Specifications
Body
Body design: Dreadnought
Body Bracing: Forward Shifted X Brace
Binding: Antique white
Top Wood: Sitka Spruce with Aging Toner
Back & Sides Wood: East Indian Rosewood
Color: Natural
Finish: Gloss
Neck
Neck Wood: Select hardwood depending on modification
Neck Shape: Modified low oval with a high-performance taper
Radius: 16″
Strings
Number of Strings: 6
Strings type: Lifespan 2.0 92/8 Phosphor Bronze, .013-.056
String material: Steel
Fingerboard
Number of Frets: 20
Scale Length: 25.4″
Fingerboard material: Ebony
Fingerboard Inlay: Mother-of-Pearl Dots
Tuning Keys: Nickel open gear
Bridge / Nut / Saddle
Bridge material: Ebony
Nut material: Bone
Nut Width: 1.75″
Saddle material: Bone
Other
Left-/Right-handed: Right-handed
Case Included: Hardshell Case
How It Sounds
The solid spruce top and the rosewood back and sides produce a crisp and clear tone with an assertive high-end presence and powerful bass.
The well-articulated treble and midrange make the D-28 an excellent rhythm and bluegrass guitar. The focused low end sounds tight without an unnecessary boom. The forward-shifted non-scalloped X-bracing generates a superb sound projection and an outstanding tone sustain.
Check out this video to hear the insane sound of the D-28:
Playability
The large body of the D-28 means that the player will experience more pleasure touching the guitar's rosewood body.
The satin finish on the low-oval neck lets the player whizz through the frets and focus entirely on their performance. The new taper design gives your fretting hand a sleeker feel as it moves up towards the guitar's body.
The high-performance neck taper means that the fingerboard width starts at 1-3/4″ at the nut and reaches 2-1/8″ at the 12th fret. The varying width allows a quicker response to a variety of playing styles and genres.
Quality
To exhaust the subject of the Martin D-28s build quality would require a separate article. Suffice it to say that the nut and the saddle are made by hand out of humanely sourced natural bone or ivory.
Some of the most exquisite modifications of the D-28 also feature an all-rosewood body with a solid spruce top and lacquer finish, and ivory-like binding edges.
The mahogany neck is reinforced with a T-bar, while the fingerboard and the bridge are made of responsibly sourced ebony.
Finally, this 3,000-dollar acoustic gem comes with a unique hard-shell case to protect it from adverse atmospheric conditions.
What Others Are Saying
"Feels great to be a member of the Martin Guitar Owners club," writes Steven from California on Sweetwater, summarizing all of the superlatives that this acoustic guitar has earned over the years.
To see if Martin the D-28 is a good investment in the long run, let's just read the comment of a certain David from Texas: "I've had my D-28 since 1970. It has held up great."
Ben from California recommends replacing the original strings with D'addario EJ19 strings that are light on top and medium at the low end for easier bending and blues playing.
Pros and Cons
PROS 👍
Made almost entirely by hand from the best possible materials
Divine sound
Very comfortable to play
You can order a replica of the original Martin D-28 of 1931
CONS 👎
The retail price of around $3,000 is just a starting point
Martin D-28 vs. D-18
Let's see how the Martin D-28 stands against one of its arch enemies, the equally popular D-18.
Sound
The mahogany back and sides of D-18 account for a softer tone and less bass. It also lacks some of the sharpness and articulation of the D-28's. So, I think the D-28 is the clear winner in terms of tone quality.
Build Quality
The D-28 designation indicates that East Indian rosewood has been used to make the guitar's back and sides, while the top is made of solid spruce.
Since 1917, Martin has been making its D-18 dreadnought acoustic guitars with solid spruce tops and mahogany backs and sides. As rosewood is slightly more expensive than mahogany, the D-28 wins this round by a narrow margin.
Playability
Both guitars are full-size dreadnaughts with dovetail neck joints, a satin finish on the neck, and a 25.4″ scale length. So, I'd say the playability round is a tie.
Price
The Martin D-28 is roughly $500 pricier than D-18, making the latter the more affordable acoustic guitar.
With that in mind, I think D-18 deserves the win in this showdown with its more reasonable street price.
Frequently Asked Questions (FAQ's)
Now, let me answer five of the hottest questions about the Martin D-28 that have been circulating the web.
Who Plays the Martin D-28?
The constellation of the Martin D-28 players includes legends like Elvis Presley, Johnny Cash, John Lennon, and Sir Paul McCartney.
Is the Martin D-28 a Dreadnought?
The Martin D-28 isn't just a dreadnaught. Rather, its design and tone define how a true acoustic dreadnought should look and sound.
Why Is the Martin D-28 So Popular?
Firstly, the model has a rich history dating back to 1917. Secondly, it's got several upgraded versions, such as the D-28 Modern Deluxe.
Last but not least, you can ask the company to replicate one of its vintage models, especially for you.
What Is the Difference Between the Martin D-28 and D-18?
A D-28 tone is fuller, deeper, and with more bass.
What Is the Difference Between the Martin D-28 and D-35?
The principal difference between the two is that the Martin D-28 is made of two pieces of select tonewood, while that of D-35 is assembled of three pieces.
Conclusion
In the paragraphs above, I briefly outlined the key design features and tone qualities of Martin's D-28 Natural. Connoisseurs may also check out several upgraded versions with price tags exceeding $4,500.
I tried to find out the most expensive Martin D-28 in the world. My research showed that the Martin D-28 of 1942 costs $64,765, and I decided to stop there because my head started spinning.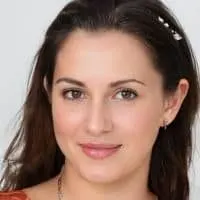 Alexandra loves playing the piano and guitar. She has always been a music lover, but it wasn't until she was in high school that she realized how much she loved to play. It allowed her to express herself without having to be verbally expressive, which is something she found very empowering.