Share on facebook
Share
Share on twitter
Tweet
Share on pinterest
Pin
Whether you want to drown your sorrows in the music or just need a little emotion to get you through the day, you need to know where you can turn. The 80s held some of the best music to date and many of their songs were quite melancholy.
So without further ado, here is my list of the 10 saddest songs of the 80s!
1. With or Without You by U2 (1987)
"With or Without You" by U2 is a classic that most of their listener's credit with being one of their best masterpieces. The song is a sad ballad that slowly builds throughout to a beautiful crescendo of melody and voice.
As a top contender for one of the best bands of all time, U2 has created an extremely powerful song about their inability to live without love. Off their fifth studio album, The Joshua Tree, this track shows just how far the band has come.
2. Careless Whisper by George Michael (1984)
Are you looking for one of the saddest songs of the 80s about heartbreak? Many people credit George Michael's "Careless Whisper" as a powerful love song even though it is about infidelity.
He sings passionately in this smooth song about how he will "never dance again" and how "pain is all you'll find." You will certainly feel his pain in this melancholy melody.
It's clear that this is a song that speaks to people all over the globe with many listeners weighing in from around the world.
3. Still Loving You by Scorpions (1984)
Thirty-eight years have passed since this song initially debuted in 1984 on the Love at First Sting album from the Scorpions. Listeners all over the world have fallen in love with the intricate guitar solos and the sad beat that serenades a lover who has taken away their affection.
Despite the sad message contained within the song, it still has the upbeat feel of a powerful rock song until you listen closely to the lyrics which are, admittedly, some of the saddest to come out of the 80s.
4. Time After Time by Cyndi Lauper (1984)
Reminisce on the good times (and the bad) with Cyndi Lauper's 1984 classic "Time After Time." It has a sweet melody and the evocative voice that Lauper is known for. No matter how much time has passed since this song's debut, it is still one of the saddest songs that has ever been made.
You'll love how the beat underscores her melodic voice as she pledges her love with the titular time after time. If you haven't heard this jam before, you will want to prioritize listening to it right away.
5. Drive by The Cars (1984)
Another 1984 classic, "Drive" is considered by many to be a masterpiece of the 80s. People who grew up with the song are still listening to it today almost 40 years later. This track contains a slow build and the hypnotic voice that The Cars came to be known for.
Put this song on repeat when you need to drown in the saddest songs of the 1980's.
6. I Want to Know What Love Is by Foreigner (1984)
Promising to offer a balm to your soul, this tender song from Foreigner's Agent Provocateur will give you hope even in the midst of sorrow. Love is on the horizon for Foreigner in this narrative songwriting, but they have faced too much heartache in the past.
If you can relate, you will love the slow pace of this smooth song.
7. Faithfully by Journey (1983)
Heralded as one of the best songs ever to be recorded, "Faithfully" is a sad story about Journey's life on the road and separation from their love. It will hit you right in the feels from the very first opening note on the guitar until it reaches a fever pitch with that long, sustained high note in the end.
Journey still has plenty of hits, even by this number, which debuted on their eighth studio album Frontiers.
8. Pictures of You by The Cure (1989)
While The Cure's "Pictures of You" may not have a downtrodden melody, this song is still one of the saddest 80s songs. Lamenting the death of a lover's heart, this song packs a powerful punch when it comes to the melodic sound of the lyrics.
Whether you grew up with this song or found it later in life, this is the tale of heartbreak that you need to hear today.
9. Don't Know What You Got (Till It's Gone) by Cinderella (1988)
If you want an iconic song from the 80s, "Don't Know What You Got (Till It's Gone)" certainly fits the bill. This song has the evocative voice of Cinderella's lead singer Carl Thomas Keifer combined with solid guitar riffs and keyboard melodies.
The singing is filled with emotion that is tied up in the words of the song. Cinderella is a well-known 80s band, and this song is arguably one of their greatest hits of all time.
You can't go wrong with this power ballad.
10. True Colors by Cyndi Lauper (1986)
No ranking of the saddest songs of the 80s would be complete without another Cyndi Lauper tune – "True Colors." Her voice is sweet and high, perfectly conveying her emotions about seeing the true colors of her love.
Surrender to the music with this song that is sad and also has a sound that is melancholier than some of the other 80s power hits that promise heartbreak.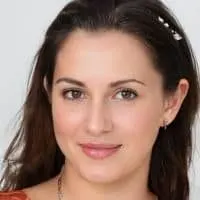 Alexandra loves playing the piano and guitar. She has always been a music lover, but it wasn't until she was in high school that she realized how much she loved to play. It allowed her to express herself without having to be verbally expressive, which is something she found very empowering.