Share on facebook
Share
Share on twitter
Tweet
Share on pinterest
Pin
Are you getting tired of hearing the same old Christmas songs year after year? Sure, Boney M is a fantastic group, and nothing screams Christmas more than they do. But mixing it up and introducing a new kind of Christmas music can be a good thing.
Join me on a musical journey through time as we go through the ten best black Christmas songs of all time!
1. All I Want for Christmas is You by Mariah Carey
Move over Boney M because Mariah Carey has taken the throne from her Christmas hit "All I Want For Christmas." Now synonymous with the festive season, the song was recorded in 2011.
Thanks to music sharing applications like TikTok, the song is extremely popular among the younger generations and is used to create viral videos around Christmas time.
Make sure you're on the good list and add this song to your best black Christmas songs playlist today, and experience one of the best Christmas songs to date.
2. I Saw Mommy Kissing Santa Claus by The Jackson 5
Whoever was behind this song choice for The Jackson 5 is a genius! How sweet is Michael Jackson singing this classic Christmas song with his brothers? I love it, and I know you will, too, when you add it to your playlist.
"I Saw Mommy Kissing Santa Claus" is a well-known hit and was released by The Jackson 5 in 1970 on a special Christmas album by the group. Turn the volume up on this one and enjoy the good old classics of Christmas.
3. Santa Baby by Eartha Kitt
The beautiful voice of Eartha Kitt transforms this Christmas classic into a song with a sex5er sound. Recorded in 1953, Kitt lent her vocals to "Santa Baby," which was written by Henri Rene.
This song is a must for that good old 50s sound and gives Christmas a whole new feel. Only Kitt could make a Christmas song sound so naughty, and we are here for it!
You can be too by adding "Santa Baby" to your Christmas playlist today.
4. Silent Night by The Temptations
1970 was a great year for The Temptations as they released a string of Christmas songs for their fans to enjoy. "Silent Night" is hands down the best song covered by the group and is still played today to celebrate the festive season.
Enjoy that classic sound that The Temptations are known for when you listen to "Silent Night" this Christmas. Light the fire, grab a cup of eggnog, and let The Temptations help you celebrate the festive season with a loved one.
5. 8 Days Of Christmas by Destiny's Child
Let girl group Destiny's Child add some spice to your best black Christmas songs playlist this Christmas. Released in 2001, "8 Days Of Christmas" is the perfect countdown to Christmas day and was featured on the group's album of the same name.
With a catchy tune and that undeniable talent of the group, make this festive season even more special as you listen to "8 Days Of Christmas" on your playlist.
6. Every Year, Every Christmas by Luther Vandross
Only Luther Vandross can make a Christmas song sound like a love ballad. His Christmas hit "Every Year, Every Christmas" was released in 1995 and gave the term Happy Holidays new meaning with his romantic song about love at Christmas time.
Add some romance to your festive season and give "Every Year, Every Christmas" a listen as it takes the number six spot on our best black Christmas songs playlist. You won't regret it!
7. Merry Christman, Baby by Otis Redding
"Merry Christmas, Baby" is the best song to dedicate to someone special this Christmas day. With the voice of a soulful angel, Otis Redding makes this song even more amazing than the original and enjoyed much success on the charts with his Christmas hit song.
Christmas is a time to love and be loved, and there is no way better than Otis Redding singing "Merry Christmas, Baby" in the background of your dinner (or couch) date with your beloved.
8. Santa Claus Is Coming To Town by The Crystals
Taken from the album A Christmas Gift For You by Phil Spector is the song "Santa Claus Is Coming To Town" by the group The Crystals. The song was released in 1963 and is a great addition to your festive season playlist.
Experience the true magic of Christmas, and get together with friends and family for a sing-along extravaganza with The Crystals as your backing track today.
9. Let It Snow by Ella Fitzgerald
The Queen of Soul will add some old-time class to your Christmas playlist with her 1960 song "Let It Snow." Released on an album of Christmas classics, the song was a first for Ella as she joined other black artists in celebrating the Christmas season.
This song is truly earworm worthy and will have you humming along whether you want to or not. Add this to your playlist today, and listen to it while you watch the snow blanket your city and prepare you for a white Christmas.
10. Someday At Christmas by Stevie Wonder featuring Andra Day
A collaboration by Stevie Wonder and Andra Day, "Someday at Christmas," brings us to the end of our best black Christmas songs playlist. The soulful voice of Stevie and the modern touch brought by Andra Day make this duet a must-listen.
"Someday at Christmas" was released in 2015 and has become a great hit to play at your Christmas party or festivities. Huddle around the piano, eggnog in hand, and enjoy the melody that these two talented artists have put together.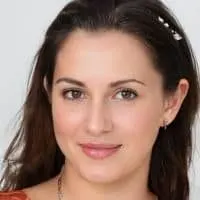 Alexandra loves playing the piano and guitar. She has always been a music lover, but it wasn't until she was in high school that she realized how much she loved to play. It allowed her to express herself without having to be verbally expressive, which is something she found very empowering.