Share on facebook
Share
Share on twitter
Tweet
Share on pinterest
Pin
Country music star Chris Stapleton is right at home talking about all matters of love; longing for love, falling in love, being in love, and losing love.
Whether it's his own song or a cover, Stapleton can tug at your heartstrings or put butterflies in your stomach. The songs on this list can break your heart and put it back together again, so listen well young lovers.
Here is my list of the top Chris Stapleton love songs for you to enjoy.
1. I Want Love
This song, originally sung by Elton John, tells the story of a person who's been through tough situations and is ready for something true, real, and unvarnished.
The guitar screams like a broken heart, the piano seems to ache, and Stapleton infuses the eccentric British singer's lament with an American everyman's weariness. When he says he's "ready for the rough stuff," you believe him.
Without a doubt, this is the best Chris Stapleton love song and is well-deserving of its spot at the top of this list.
2. Without Your Love
The song snaps into focus with intensity and slowly cultivates an intense and insistent groove. A descending bass line indicates menace and an arpeggiated guitar chord heightens the tension.
The song cultivates the vibe of any dark and rainy day while Stapleton tells the story of every lonesome lover in the post-relationship doldrums. The bridge gives one bursting moment of sunshine before the lead guitar darkens things up again and Stapleton's anguished vocals remind us what it's like to live without love.
3. Broken Halos
The first track off 2017's From A Room: Volume 1 finds Stapleton at his most meditative, contemplative, and reflective. With wings, halos, and heaven shining down, this song equates love to the most soul-enriching experience possible.
The song considers why bad things happen to good people, why everything ends, and why we have to go through so much pain. In the end, he is accepting and finds a way to move forward despite all the damage done by this life.
4. More Of You
This duet is one of the sweetest songs in Stapleton's ever-growing catalog. Not only does it present Stapleton at his most wistful, but it also features his wife Morgane Stapleton on backing vocals. Stapleton has said that his wife was essential to the writing and recording of this and several other songs on his record Traveller and her contribution on this song lends a sense of authenticity to the song.
The mandolin chimes out brightly in a major key underscoring the feelings of warmth and affection inherent in the song. It's hard not to imagine Stapleton and Morgane staring across a recording studio, their eyes locked as they recorded this lovely track.
5. Fire Away
We always hurt the ones we love. "Fire away" is a great example of this phenomenon. It's about putting the ones we love in the crosshairs. Love lost can feel like a bullet wound and Stapleton is at his most vulnerable on this 2015 tune.
The note he holds in the chorus where he invites his lover to "take aim" recalls the idea of someone stepping out into the open. He's putting himself in the hands of someone else and that can be terrifying. Stapleton bravely comes out from safety for the sake of love.
6. Tennessee Whiskey
This David Allan Coe cover is a paean to alcohol as much as it is to a lover. The lyrics of the song compares drinks like strawberry wine, brandy, and the titular Tennessee whiskey to love and it is unclear which is more important to the singer. Perhaps it doesn't matter.
Like a nice drink as the sun goes down, the song luxuriates and effervesces with an easy tempo and a warm glow. Coe's original is no up-tempo number, but Stapleton slows things down to an absolute trickle, creating the feeling of being at the bar with someone and sipping your drink as slow as you can so the date doesn't have to end.
7. You Should Probably Leave
Sitting at number 7 on my list of the best Chris Stapleton love songs is "You Should Probably Leave."
This song features an upbeat rhythm, a bright Hammond B-3 organ, and a bouncy melody. If the lyrics weren't so rife with on-again, off-again relationship drama, one might be forgiven for thinking it's a nice little number.
Despite the tone, the song is about what happens when two people who love each other can no longer stand the sight of one another. Almost everyone has gotten to the point in a relationship where they've wanted to say this.
8. Millionaire
When you're in love, you say things as crazy as "love is more precious than gold." I suppose Stapleton can be forgiven for feeling this way, after all, he's already a millionaire.
But even those who can't rub two pennies together can relate to the notion of love being more important than money. Love is a special kind of madness, after all.
This soulful, Grammy-nominated song communicates the notion of fulfillment by overstuffing the track with robust instrumentation, gorgeous backing vocals, and a feeling of joy in the voice of Stapleton.
9. Whiskey and You
Things can get confusing when you are in love. I've never confused my girlfriend for a bottle of Jameson but I guess if you drink enough, it gets hard to tell.
At least Stapleton admits he's been drinking too much on this song. And who can blame him? He's been left alone and the whiskey is the only thing he can do to numb the pain.
What makes him sound even more lonesome is the sparseness of the track. The spare production creates an intimacy that is arresting. You can hear his fingers squeak on the guitar and his voice echoes like he's in the emptiest room of all time. Not a drummer, not a bass player, not a single piano chord helps him through the tune. It's just a singer, an acoustic guitar, and a bottle.
10. Maggie's Song
Not all love songs are about two people. Some love songs are about how much a person loves their car (Chuck Berry's "Maybellene"), or how much they love their guitar (Loudon Wainwright's "Red Guitar"). In the case of this song off Stapleton's 2020 record Starting Over, the love a man has for his pet.
Of all the sad songs on this list, this one might be the most poignant and the most capable of drawing a tear from the listener. Even if you haven't heard it, you can probably guess why.
Anyone who has ever even had a goldfish can tell you why this tune ranks as a great love song.
Thanks for coming to check out my list of the best Chris Stapleton love songs of all time.
Let me know what you think about my list in the comments section below.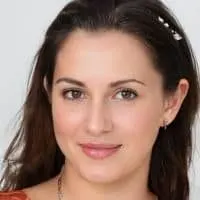 Alexandra loves playing the piano and guitar. She has always been a music lover, but it wasn't until she was in high school that she realized how much she loved to play. It allowed her to express herself without having to be verbally expressive, which is something she found very empowering.