Share on facebook
Share
Share on twitter
Tweet
Share on pinterest
Pin
We all grew up watching Disney movies, enthralled by the magic happening on the screens in front of us. The best part of these movies was the songs that we all memorized word for word.
Disney is known for its happy endings, and the songs that we have selected for our list are sure to have you singing along.
So without further ado, here is my list of the best Disney love songs of all time!
1. I See the Light – Tangled (2010)
Tangled was one of Disney's first movies where the hero was the female lead, showing girls across the world that they too can save the day, even if they don't have magic hair.
Released in 2011, "I See the Light" is one of the most beautiful love songs featured in the film and will make you wish you were in a boat with thousands of lanterns floating by.
2. An Unusual Prince/Once Upon a Dream – Sleeping Beauty (1959)
A newcomer released in 1958, Sleeping Beauty became the dream for little girls everywhere. The iconic song "Once Upon A Dream" was an instant hit, and Sleeping Beauty topped the box office for weeks.
Just take a listen to the song and be transported back in time when dreaming of love was your only care in the world. Ahhhh, to be young again.
3. A Whole New World – Aladdin (1992)
Flying carpets, magical genies, talking birds, and a pet tiger. Disney's Aladdin has us wide-eyed with wonder watching the magic unfold in front of our eyes.
Released in 1992, Aladdin brought forth a new kind of Disney movie with an equally fantastic soundtrack with "A Whole New World" teaching us that love is possible under any circumstances.
4. So This is Love – Cinderella (1950)
Originally from the 1950 movie Cinderella, "So This Is Love" is quite possibly one of the best love songs. With a melodic tune and the phenomenal duo of Mike Douglas and Ilene Woods on vocals, "So This Is Love" will have you dreaming of your prince just as you did when you were growing up.
Hum along to the sultry sound of Ilene Woods and Mike Douglas, and add this to your playlist today – you will not be sorry. It will put an instant pep in your step.
5. Can You Feel The Love Tonight – The Lion King (1994)
When stars like Elton John record a song for a children's Disney movie, you know it will be enormous. Elton John wrote and recorded "Can You Feel The Love Tonight" for Disney's Lion King.
The movie has been remade a few times, giving it a more modern feel, but nothing beats the classic version that features this beautiful song. The unmistakable voice and talent of Elton John truly bring this song to life and will have you humming along.
6. Love Is an Open Door – Frozen (2013)
The movie Frozen exploded onto screens in 2013 and instantly went on to break box-office records. Inspiring clothing and merchandise lines, Frozen is still popular, and the branded gear is still available in stores today.
"Love Is An Open Door" is one of the happier tunes from the soundtrack and is about the kind of love that makes you feel alive. Plus, Kristen Bell and Santino Fontana's voices pair so well that it can't help but put a smile on your face.
7. When She Loved Me – Toy Story 2 (1999)
When you think of songs related to Toy Story, your mind probably jumps to "You've Got a Friend in Me" by the indelible Randy Newman. However, while there is no mistaking that song's place among the Disney-Pixar greats, the sequel to Toy Story gave us an equally unforgettable song about lost love.
"When She Loved Me" is tragic and downbeat and depicts a childhood love that is lost over time. Granted, the love is between a toy and her owner, but the song is no less emotional and impactful for it.
8. Something There – Beauty and the Beast (1992)
Beauty and the Beast is a classic, semi-tragic love story through and through, so it comes as no surprise that it would be chock-full of great love songs to belt out on karaoke night. While some are undoubtedly melancholic, others are wistful and optimistic, much like "Something There."
"Something There" – like all other Disney love songs – manages to capture the innocence of love, which is quite something considering that the love in question is between a 19-year-old girl and a man-beast. "Something There" is tender, sweet, and a worthy addition to your Disney playlist.
9. Kiss the Girl – The Little Mermaid (1990)
If you ever had dreams of being a mermaid, those dreams were inspired by the 1989 Disney movie The Little Mermaid. "Kiss The Girl" is one of the songs from the soundtrack and centers around Ariel's fish and animal friends encouraging the prince to kiss Ariel for the spell Ursula cast on her to be broken.
Sing along to your heart's content as you travel back to your childhood with this classic. Samuel E. Wright, who also voices the crab, Sebastian in the film, lends his voice to a song that has become a cult classic, with newer versions featured on social media and even being played at weddings.
10. Love – Robin Hood (1973)
It is more than fitting that our list of the 10 best Disney love songs should end with one simply titled "Love." Robin Hood was released in 1973 and is considered to be a Disney classic, even if it does not get the same reverence as Snow White or Sleeping Beauty.
"Love" is a wispy tune, almost ghostly, but its lyrics are sweet and simple. It would make a great, final addition to your Disney playlist.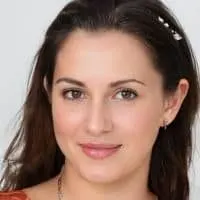 Alexandra loves playing the piano and guitar. She has always been a music lover, but it wasn't until she was in high school that she realized how much she loved to play. It allowed her to express herself without having to be verbally expressive, which is something she found very empowering.