Share on facebook
Share
Share on twitter
Tweet
Share on pinterest
Pin
If you turn on the radio for just 10 minutes, chances are you're going to hear a song by Maroon 5 playing. They're one of the most famous musical groups of our time, and for good reason – they consistently release hit songs that are played on the radio regularly.
One of Maroon 5's recurring themes, like most musicians, is love.
So, in this post, I'm going to showcase some of what I consider to be the best Maroon 5 love songs out there!
1. This Love
One of the band's most famous songs, "This Love", tells the story of being in a relationship that you know is bad for you but that you just can't get enough of.
It's definitely one of the most popular songs that Maroon 5 has ever released, proven by its 250 million views on YouTube.
The song opens up with an incredibly catchy piano riff that really gets the feet tapping before the drums and vocals kick in to deliver an incredible song. Adam Levine's signature vocals are, of course, at the forefront, showcasing his full vocal prowess.
2. She Will Be Loved
Here's a song that I'm sure you've already heard. "She Will Be Loved" is another of the most popular songs that the band has ever released, frequently getting airtime on today's most popular radio stations.
It has an unbelievably catchy chorus that will be stuck in your head for days, whether you like it or not, and the backing track is nothing short of addictive. "She Will Be Loved" is one of my favorite Maroon 5 love songs for sure.
3. Nobody's Love
"Nobody's Love" was released quite recently and is already an incredibly popular song around the world. It's got quite a different sound to it, opting to incorporate some of the more common pop sounds of today.
The verses are simple and easy to sing, which is part of what makes this song so addictive. Levine's signature vocals really tug at the heartstrings, and while the track is definitely more upbeat, it's got a great emotional kick to it.
4. Love Somebody
If you've never heard "Love Somebody" before, then you must have been living under a rock all your life! When it was first released, it was played on radio stations non-stop and is still played on those same stations today.
It's a song about craving love and feeling like you need someone to complete you – something that I'm sure a lot of people these days can relate to. It's incredibly catchy, and you'll be humming its tune for days to come.
5. Sugar
"Sugar" might be the most popular song that Maroon 5 has ever released, and for good reason. It's got an almost funk-like quality to it, featuring an excellent guitar riff and some retro sounds that really bring the song together.
Adam sings in his highest falsetto register for the chorus, which is something that he's known for. The tune is unbelievably catchy, and I guarantee that this song is going to be stuck in your head for a while – that's just how it is with Maroon 5 love songs.
6. Girls Like You (Feat. Cardi B)
Another recent release from the band, "Girls Like You", took the world by storm when it first came out. It features none other than Cardi B of all people, but that's not the only celebrity appearance on this track.
The music video features dozens of famous faces, like Millie Bobby Brown and even Adam Levine's wife. It's definitely an experience, and one I highly recommend you enjoy.
7. Memories
"Memories" was released not too long ago and has already become one of Maroon 5's most popular tracks. With nearly 900 million views on YouTube, it's a testament to how good this band is at writing songs.
It's got a simple tune that you've probably heard before because it riffs off of the famous 'Canon in D' by Pachelbel. It's a great song and a highly catchy one too, and I can't recommend it enough.
8. What Lovers Do (Feat. SZA)
Maroon 5 is never short of incredible collaborations with other fantastic artists, and "What Lovers Do" is definitely proof of that.
Featuring the incredible vocal talents of SZA, it's a fabulous song that makes you want to get up and dance alone in your room.
It's a simple track with a fairly basic chord progression and simple backing track, but those elements are what make this such a great number. It's addictive and extremely fun to sing along to – take it from me!
9. It Was Always You
"It Was Always You" is a bit of a departure from the other Maroon 5 love songs I've mentioned so far in that it's a little more downtempo and slightly more emotional. The vocals are raspy and almost impure, really tugging at the heartstrings with each word.
This is a song about being so devoted to someone that nobody else can compare, which is something that I'm sure we've all felt before. If you're in the mood to get a little emotional, then "It Was Always You" would make for a fantastic addition to your playlist.
10. Never Gonna Leave This Bed
Don't get too excited – "Never Gonna Leave This Bed" is not the teenager anthem that you might think it is. Rather, it's an emotional track about wanting to spend every moment with the person you love and spending most of that time just lying together.
It's a unique track, with an almost pop-rock feel to it that we don't really see much of from Maroon 5. If you're looking for some new music to enjoy, then "Never Gonna Leave This Bed" is definitely one of my top recommendations.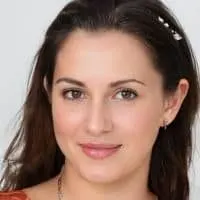 Alexandra loves playing the piano and guitar. She has always been a music lover, but it wasn't until she was in high school that she realized how much she loved to play. It allowed her to express herself without having to be verbally expressive, which is something she found very empowering.