There was a time not too long ago when K-pop could only be found in South Korea. Today, however, it has spread all over the international music scene after taking the world by storm. For those who don't know, K-pop is short for Korean Popular Music and it includes all South Korean music in the popular culture.
K-pop is generally known for being cute, but some acts push the boundaries of what is accepted with sexy K-pop songs.
To explore this side of K-pop more I have put together a list of the 10 sexiest Kpop songs!
1. Baby Don't Stop – NCT U
Album: NCT 2018 Empathy
Released: 2018
My number one pick for the sexiest K-pop song is "Baby Don't Stop" by NCT U. The song's name alone already suggests a certain sexy intention. It is asking a lover to not stop what they are doing. It refers to a few different things, but mostly to a sensual touch. The lyrics describe how it all just feels too good.
In the music video, we can see NCT U performing a rather sexy dance to go with the sexy vocals and lyrics. The group NCT U is a sub-unit of the original group NCT and the group does not have permanent members so the members keep on changing.
2. Move – Taemin
Album: Move
Released: 2017
According to many others, "Move" is the sexiest K-pop song of all time. It is indeed very sexy so it makes it into the number two spot on this list. "Move" is a slower song with an intense and sensual feel. It speaks about connecting to your own movements and the movements of the one you love.
The song comes with an amazing dance performance that elevates its sexy quality. It even won the MAMA Award for Best Dance Performance – Solo.
3. Press Your Number – Taemin
Album: Press It
Released: 2016
"Press Your Number" is a relatively slow K-pop dance song by the solo artist Taemin. Taemin is a singer, actor, and dancer who debuted in 2008 with the boy band Shinee. He has won many awards over his career including the Golden Disc Award Album Division.
In this song, Taemin delivers a great vocal performance that is elevated by a perfectly choreographed dance. Both of these elements add together to create something that Taemin is well known for – sexy.
4. Dally – Hyolyn
Album: Dally
Released: 2018
You just have open the music video to know that "Dally" is one of the sexiest K-pop songs there is. Hyolyn is an amazing dancer and in this song, she does not hold anything back. She and her backup dancers go all out, with minimal clothing, and many of the dance moves are sexual and seductive in nature.
"Dally" itself is also a great song and it is actually the first solo song that Hyolyn did after her group SISTAR broke up.
5. Mini Skirt – AOA
Album: BEST SONGS FOR ASIA
Released: 2014
Without a doubt, "Mini Skirt" is one of the sexiest songs that K-pop has ever seen. It is completely different from most K-pop music in the way that it is 100% in-your-face sexy. It does not hold back at all.
The song talks about girls wearing mini skirts in order to show off their bodies and thus get attention from others. The video shows how the girls dance in their short skirts in a very seductive and suggestive way.
6. Paradise Lost – Gain
Album: Hawwah
Released: 2015
Gain is best known for being a part of the K-pop girl group Black Eyed Girls. She is also an amazing solo artist as we can see with this number six pick, "Paradise Lost."
The song is slow and intense. It goes with dance moves that are sensual and suggestive. It has all the elements it needs, and more, to make it one of the sexiest K-pop songs.
7. DR Feel Good – Raina
Album: Just Go
Released: 2013
"DR Feel Good" is all about wanting to feel good and wanting a special person to make you feel good. The performance has the girls rolling around on the ground wearing very tight-fitting leather clothing. Those two things combined are enough to make any song sexy.
Raina is an all-girls K-pop group that is pretty well-known, but there is quite a lot of criticism against them. Some say that they are one of the ugliest K-pop groups ever, but it's impossible to think that after seeing "DR Feel Good."
8. EOEO – UNIQ
Album: EOEO優+
Released: 2015
Most of the songs on this list are by female artists, but that does not mean that the boys can't also do sexy music. "EOEO" shows us exactly how sexy male artists can get. The song has a very flowy and heavy bass beat that goes perfectly with sexy dancing.
UNIQ is a South Korean/Chinese boy band with five members. They have their origins in South Korea, but they were formed by a Chinese company.
9. Vibrato – Stellar
Album: Sting
Released: 2016
In the "Vibrato" music video we see the girls of the Stellar group dancing with minimal clothing in glass cases with their skin pressing up against the glass. This music video alone could make it one of the sexiest songs, but it has a sexy song that matches it perfectly.
10. Mister – KARA
Album: Revolution
Released: 2009
Last but not least is "Mister" by KARA. This song was released way back in 2009, making it by far the oldest song on this list. That means that it would probably have been the sexiest K-pop song at the time of its release.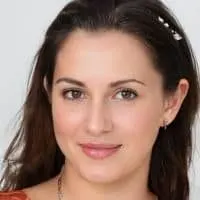 Alexandra loves playing the piano and guitar. She has always been a music lover, but it wasn't until she was in high school that she realized how much she loved to play. It allowed her to express herself without having to be verbally expressive, which is something she found very empowering.