Share on facebook
Share
Share on twitter
Tweet
Share on pinterest
Pin
Fabulous Las Vegas – the brightest city on earth, the shimmering jewel in this cerulean crown of ours. This is a place where some dreams come true, and some dreams go to die. Sinatra sang it best: "This town is a make-you town, or a break-you town and bring-you-down town."
There are scant few things on earth more glamorous and appealing than a trip to Las Vegas. But if you haven't had the chance to experience Sin City for yourself yet, then you definitely need to plan a trip to see it.
Here is my list of the best songs about Las Vegas of all time!
1. Viva Las Vegas by Elvis Presley
Who better than the bona fide King of Rock 'n Roll to kick off this jig? Elvis needs no introduction. Even the most casual of casual cats will recognize the man and his crooning voice. Viva Las Vegas was recorded way back in 1963 for Elvis' film of the same name. It quickly became one of the man's most recognized tunes, though Elvis himself never performed it live.
Viva Las Vegas's enduring popularity can be attributed to its subject matter and its performer. It perfectly captures the ecstasy of a Vegas trip thanks to its quick tempo and upbeat bravado. And, of course, who could ever forget that voice?
2. Waking Up in Vegas by Katy Perry
Now, hold on, hear me out. Sure, a lot of Katy Perry's music is hit or miss, but you can't deny that she's got talent. And that talent is on full display here. Waking Up in Vegas is a pop-rock tune, a sweet, cherry-pie assault on the listener.
This was back when Perry was still a teenage sensation, and the lyrical content reflects that. There are a lot of teenage shenanigans here, all set against the backdrop of Vegas' bright lights and shining monuments. If you feel like remembering what it was like to be a drunk teenager in love with a boy, this one's for you.
3. Las Vegas by Jok'Air
The intoxicating appeal of Las Vegas reaches all demographics all over the world. Take this little number from French artist Jok'Air, who specializes in crafting tunes you can groove to.
Titled Las Vegas, this number evokes a sense of fear and wonder, the kind you'd feel arriving in a beautiful new place fresh off the boat. It's a far cry from the likes of Elvis, sure – but different doesn't mean bad. Quite the opposite. This song has more groove than you can shake a disco ball at.
4. Vegas Girl by Connor Maynard
In terms of pure style, Vegas Girl by Conor Maynard has more in common with the likes of Jok'Air than Elvis. To reiterate – being different doesn't mean bad. Vegas is the sort of place that attracts people, some good, some bad. It's where everyone goes to commit a few sins and have the time of their lives.
But remember the cardinal rule: what happens in Vegas stays in Vegas. That's where this song comes in. Imagine meeting the person of your dreams in a darkened club or casino, then forgetting to take their number. That's sort of where this song comes in.
5. Vegas Lights by Panic! at the Disco
You can always count on Panic! at the Disco for a sappy tune, if nothing else. The band's distinct knack for emotive lyrics and evocative music gels surprisingly well with the subject of Vegas. But of course, this is still Panic!
You can expect a somewhat dour change of crucial compared to some of the others on this list. That being said, Brendon Urie's sweet voice uplifts the song, and if you're a 20-something-year-old who never quite got past their emo phase, this may be the Vegas tune for you.
6. Vegas by Sara Bareilles
Let's dial things back a bit and look at a song that will appeal to dads and hipsters alike. Despite her extensive career as a stage actress and singer-songwriter (and an impressive array of awards to boot), Sara Bareilles is a name not everyone will recognize.
And what a crying shame that is. Her musicianship is mature in terms of quality, but you will hear a youthfulness that will warm your soul in her voice. This song – simply titled Vegas – tells the story of a woman selling her possessions in a somewhat desperate bid to reach Sin City. It'll surely appeal to anyone seeking a little reprieve from the humdrum of daily life.
7. Let's Go to Vegas by Faith Hill
Don't you go walking out on us yet, country fans. We haven't forgotten about you. The appeal of Vegas extends to homesteaders, ranchers, and cowboys and gals. Country fans will surely recognize Faith Hill – she's only sold more than 40 million albums worldwide.
Even to my inexperienced city-boy ears, I can understand the appeal, and the subject matter is one of my favorites. Sure, there's not a lot of lyrical depth to this tune, but it's the perfect song to blast through your car's radio on a road trip.
8. Ooh Las Vegas by Gram Parsons
It's high time we turn our gaze backward and examine a classic track that will have you bopping your head as you speed down the highway on your motorcycle.
Gram Parsons had an unfortunately short career, but his music made waves across both rock and country genres, seamlessly merging them. This track from 1973 – released just four months after his death – is energetic and lively and should make another neat addition to your Vegas road trip playlist.
9. Queen of Las Vegas by the B-52s
Here's another classic track before we end our list. The B-52s are one of the most influential new wave bands to come out of the 70s (of which there were more than a few).
We're not sure this track will make for good road trip listening. It's a decidedly modern tune with a discordant melody that evokes a strange feeling of alienation, surprisingly apt for Vegas newcomers.
10. Heaven or Las Vegas by the Cocteau Twins
Rounding off our list is a tune from the Cocteau Twins, released in 1990 and named after the album it appears on. Heaven or Las Vegas is a lush listening experience with a nostalgic feel.
Picture any prom scene from any teen romcom released between 1980 and 2000 – this song would probably fit it pretty well. It's sweet, short, and captures yet another side of the Vegas experience.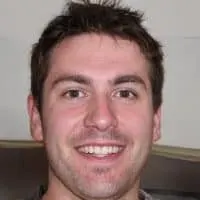 Alex is a man of many talents. He's been playing music since he was young, and has been the main content writer at Tone Start for the past few years. Alex loves to play around with different styles of music and enjoys listening to anything from country to classical.