Share on facebook
Share
Share on twitter
Tweet
Share on pinterest
Pin
Do you need a bangin' list of songs for your next karaoke party or cookout? If so, then you have come to the right place.
Here are the top 10 best rock karaoke songs that everyone will know!
1. The Killers – "Mr. Brightside"
The Killers are a rock band based out of Los Vegas. This 2004 song from their album Hot Fuss is one of the most popular alt-rock/synth-pop songs. I love this one because of its cryptic lyrics.
The song is about a real-life experience from the lead singer's teen years. Brandon Flowers once told Q Magazine during an interview that the song was inspired by one of his exes who had cheated on him (He caught his girl cheating at a pub).
The song is about lamenting about one's naivety, but still missing, yet trying to stay on 'the bright side'. The sound of the song was inspired by Iggy Pop and David Bowie. "Mr.Brightside" is now considered a classic by many. Despite its dark theme, Flowers made this hit oddly cheery and karaoke-able.
2. Survivor – "Eye of the Tiger"
I'm going to send you back to 1982 with this one. This hard-rock song once won the Brit Award for Song of The Year and was featured in the movie Rocky III. It is still popular among jazz bands and karaoke bars across the country.
"Eye of the Tiger" has catchy, psychedelic rock vibes. Ultimately, the song has a very optimistic outlook, saying that challenges in life are thrilling, and celebrates strength. Its positive message and dance-worthy beat make it an obvious candidate for the best 10 rock karaoke songs.
3. Oasis – "Wonderwall"
I know, I know. Every guy with a guitar is a "Wonderwall guy" but hear me out. Wonderwall is one of the best rock karaoke songs. This 1995 song actually has an impressive rhythmic complexity. Your average guitarist just strums it willy-nilly, but when sung over and played over, it can be quite tricky. But who needs a guitar when you have a karaoke machine?
"Wonderwall" was once coined "The Best British Song Ever" according to a poll done by Radio X.
4. Journey – "Don't Stop Believin'"
One time I was at a marching band competition, where every competing band played "Don't Stop Believing" at the half-time show. Including our band.
"Don't Stop Believin'" has that 'belt-your-heart-out' kind of melody and is a romantic song about star-crossed lovers. This pervasive pop-rock song is from Journey's 1981 album, Escape. You can still hear it everywhere, from bars to weddings to nightclubs.
This emotive, groovin' anthem is the best-selling digital track. Ever.
I love how picturesque the composition is. The song was written by imagining a movie, also inspired by Sunset blvd in the 70s.
5. Jimmy Eat World – "The Middle"
This 2001 Bleed American tune won both an MTV music video award, as well as a Billboard award, and is known for being in the movies "I am Number 4" and "The Butterfly Effect".
The short 2:46 emo track is a great karaoke song for an emo throwback night. It is about the trials and tribulations that Jimmy Eat World had to go through as a band.
6. Queen – "Bohemian Rhapsody"
If you want to make a crowd go wild, go with Brit-Rock band Queen's "Bohemian Rhapsody". I love it because of the operatic vivacity it has, as well as all of the transitions and time signatures. It's like 5 songs in one, at least!
This one is chock full of symbolism and intricacies. And while I may never really understand all of the lyrics, It sure is fun to get tipsy and sing along to.
7. Panic! At the Disco – " I Write Sins Not Tragedies"
The 2005 A Fever You Can't Sweat Out hit "I Write Sins Not Tragedies" is scandalous and catchy, making it one of the most obvious 10 best rock karaoke songs.
The song is about a dramatic scene at a wedding, where the Groom hears his bride is cheating on him via a conversation that happens between a bridesmaid and a waiter.
This saucy, dirty bop was inspired by band member Ryan Ross's girlfriend, who had cheated on him.
8. Smash Mouth – "All Star"
The source of many memes and parodies, everyone knows and loves (OR loves to hate) "All Star". This 1999 alt-rock chart-topper was further popularized by the movie Shrek. (And honestly? All the songs in the first Shrek movie are super karaokeable!),
This jam-able song was written for those who are feeling left out, and was released on the band's second album, Astro Lounge. The song is yet another throwback that frequents my local radio
9. Toto – "Africa"
"Africa" is a rock-pop hit that was released in 1982 on the album Toto IV. This song has been covered and covered again, even on these plastic tubes called boomwhackers.
According to an interview done with Toto in 2015, the song is about About David Paich's "Deep love for Africa".
I think the reason why it's so popular today is because of the lush harmonies and layers and layers of drum loops. "Africa" reached #1 on the Billboard Hot 100 in '83, and is still being featured in shows like Family Guy today.
10. A-ha! – "Take On Me"
A-ha is a synth-heavy band from Norway. This alt-pop song was recorded in 1984 and is off of their first album, Hunting High and Low. Of the 10 best rock karaoke songs on this list, this one took the longest to catch on. "Take On Me" Didn't become popular in the United States until the artsy sketchbook-style music video was released.
I like the chromatic solo and synth-heavy songwriting, and the whopping 2 ½ octaves worth of vocal range you will need to achieve this.
This song is a great karaoke challenge or tune for an 80's-themed party.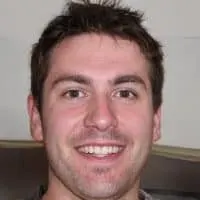 Alex is a man of many talents. He's been playing music since he was young, and has been the main content writer at Tone Start for the past few years. Alex loves to play around with different styles of music and enjoys listening to anything from country to classical.