Share on facebook
Share
Share on twitter
Tweet
Share on pinterest
Pin
Family love is undoubtedly one of the purest forms of love around. Your family loves you unconditionally, no matter what happens in life, and are the only people you can truly depend on. While romantic love is often a theme in music, songs about family love do crop up now and then.
This list is made up of a few classics and modern songs that perfectly describe family love.
So without further ado, here is my list of the best songs about family love!
1. Family Man by Fleetwood Mac
Being a "Family Man" comes with a whole host of responsibility and devotion. Fleetwood Mac covers this concept in his 80s hit "Family Man." Growing up and raising a family is what many aspire to, and the song shows the singer's battle as he grasps the term family and all it entails.
Recorded in 1987, the song is taken from the album Tango In The Night and is a fan favorite with its classic sound.
2. I'll Be There by The Jackson 5
Who can forget the sweet voice of a young Michael Jackson as he belted out "I'll Be There" with his brothers? Aged only eleven, Michael and his brothers made up The Jackson 5.
While their widely publicized family life was far from perfect, the music they made spoke of a close bond and a happy life.
Recorded in 1970, "I'll Be There" quickly became a hit worldwide and had fans wanting more from this amazing family band. Add this to your family love playlist today, and you will understand why the world was obsessed with The Jackson 5.
3. Love Can Build a Bridge by The Judds
The Judds were one of country music's biggest duos with their songs of love, life, and everything in between. One of their best, "Love Can Build A Bridge," focuses on the importance of a good family bond filled with love.
The song featured on what was to be their last album together and was released in 1990. The Judds bring us to three on our best songs about family love list and should be played at every family function to highlight the importance of supporting each other.
4. We are Family by Sister Sledge
Iconic. Classic. Timeless. There are simply no other words that accurately describe "We Are Family" by Sister Sledge. With their unique disco sound and lyrics that seek to put an end to social apartheid, the sisters released the song in 1979 on their disco album We Are Family.
Experience Sister Sledge at their best by adding "We Are Family" to your playlist today – all I can say is that it is well worth the repeated listening.
5. I'll Always Love My Mama by The Intruders
Popular around Mothers Day, "I'll Always Love My Mama" is a perfect dedication to mothers around the world as their children take note of and appreciate the sacrifices that a mother makes.
The Intruders chose to do this with their beautiful song "I'll Always Love My Mama," which was recorded in 1973 for the album Save The Children. A mother's love for her children is endless and deserves a spot on the best songs about family love playlist. Give it a listen and dedicate it to your mother every day.
6. Family is Family by Kacey Musgraves
New-age country folk is gaining popularity thanks to artists like Kacey Musgraves and her sweet songs about love. "Family is Family" is taken off her 2015 album Pageant Material and is a song about how you can live without your family.
While every family has its issues and differences, nothing can compare to that bond, and the importance of family is something that Musgraves celebrates in this sweet song.
7. Teach Your Children Well by Crosby Stills, Nash, and Young
Every generation of youngsters has its own issues to deal with, and respecting those issues is important for families to get along. Crosby Stills, Nash, and Young cover this topic in their 1969 song "Teach Your Children Well."
As a way to stop future generations from making the same mistakes, the band spreads the message that it is up to parents to teach their children about past issues and how to handle future ones.
8. The House that Built Me by Miranda Lambert
When the struggles of adult life get too much, it is nice to know that we can go back to our childhood homes and just be. Miranda Lambert knows this feeling all too well as she sings about going back to her roots in her 2009 song "The House That Built Me."
Familiarity, family, and most importantly, love are all things we crave, and there is no better place to find this than at "home." "The House That Built Me" is taken off Lambert's album Revolution and was co-written with then-husband Blake Shelton.
9. Family Affair by Sly and the Family Stone
Another family-oriented band, Sly and the Family Stone, released their hit song "Family Affair" in 1971 for their album There's A Riot Goin' On. Groovy is just one way to describe this 70s song that describes the many battles of being in a band with family members.
It also explores both the good and bad that come with family relationships but has a great beat and tune that will have you dancing along. "Family Affair" is the second song on our best songs about family love list.
10. Daddy Sang Bass by Johnny Cash
Music has a way of bringing a family together, even in the toughest times. Johnny Cash sings about just this in his 1968 classic song "Daddy Sang Bass." The song is featured on the album Folsom Prison Blues.
The song describes a family who doesn't have much, but they have their family sing-a-longs, and that is enough for them. This is a great song for the campfire and should be included on your family camping playlist.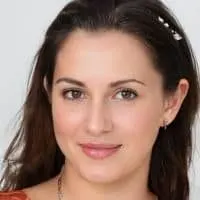 Alexandra loves playing the piano and guitar. She has always been a music lover, but it wasn't until she was in high school that she realized how much she loved to play. It allowed her to express herself without having to be verbally expressive, which is something she found very empowering.