Starting a band is something that just about every musician (and non-musician) has thought about, or is currently thinking about. This is for a good reason, there are few things as fun as getting a group of musicians together and starting a band. Before you know it, you will be playing at some local gigs, and who knows where it can go from there.
One of the most challenging parts is the beginning phase. Playing solo is much easier because you don't need to sync with all the other musicians. For this reason, it is good to start with some beginner band songs and then build from there.
So without further ado, here is my list of the easiest songs for bands to learn!
1. Seven Nation Army – The White Stripes
Album: Elephant
Released: 2003
The great thing about beginner band songs is that some of the most popular songs are relatively easy to play. There is a reason why certain songs have become such big hits – they are so simple that it is actually brilliant. "Seven Nation Army" is the perfect example of that. Mostly it is the same cords that get repeated over and over, but the result is a killer band song.
If you are starting a band, "Seven Nation Army" should be one of the first songs that you learn together.
2. Sweet Child O' Mine – Guns N' Roses
Album: Appetite for Destruction
Released: 1987
The classics will keep coming on this easy songs for bands list. Some of the most legendary bands have songs that are easy to play. In many cases, the original bands play a more complex version of the song, but if broken down you can learn a basic (bare bones) version of it that also sounds great.
Guns N' Roses have quite a few songs that are easy to learn with their iconic "Sweet Child O' Mine" being the easiest among them. The bonus is that there is an epic guitar solo that will take your act to the next level.
3. Good Riddance (Time of Your Life) – by Green Day
Album: Nimrod
Released: 1997
Green Day is another band that has lots of great songs that are good for beginner bands to learn. Often their songs are only a few basic cords that get repeated.
With "Good Riddance (Time of Your Life)" there is really minimal instrumental input. This makes it especially good for a smaller band of two or three people.
Other Green Day songs that are easy songs for bands include "Boulevard of Broken Dreams" and "Basket Case".
4. Eleanor Rigby – The Beatles
Album: Revolver
Released: 1966
This entire top 10 list can actually be filled with easy songs for bands by The Beatles. Over their active years, The Beatles released 188 original songs. Out of this huge number of songs, many of them are quite easy to learn.
John Lennon and Paul McCartney were responsible for writing most of their songs. They are known as two of the best songwriters of all time. Not only are their songs all-time hits, but they are also beautiful in their simplicity.
5. Whole Lotta Love – Led Zepplin
Album: Led Zeppelin II
Released: 1969
Learning a Led Zeppelin song as a beginning band might seem very daunting at first. Their tracks have blazing guitar solos, intense drum sections, and vocals that will leave any singer feeling defeated. However, that is not really the case, you can take "Whole Lotta Love" and play it in its most beginner version which is possible for any beginner musician.
6. Dumb – Nirvana
Album: In Utero
Released: 1993
"Dumb" by Nirvana is another great option for a beginner band to learn. The guitar chords are basic, the vocals are nothing too hectic, and the drums are also simple enough. Once you learn "Dumb", you can also look at some more Nirvana songs. Often their tracks are beginner friendly.
Nirvana songs are song of the most well-known songs while also being great singalong songs. This makes them especially good options for a band that wants to play gigs.
7. Horse With No Name – America
Album: America
Released: 1971
The next pick is one of my personal favourite songs, "Horse With No Name". The track is simple, but extremely catchy, and just very fun for both the band playing it and the audience who is listening to it.
There is nothing fancy in the song, except for one slightly tricky guitar section that the lead guitarist will need to learn.
8. Brown Eyed Girl – Van Morrison
Album: Blowin' Your Mind!
Released: 1967
Another extremely well-known and well-loved track that is also easy for bands is "Brown Eyed Girl".
Van Morrison (Sir George Ivan Morrison) is an Irish singer, songwriter, and musician who has a career that has been running for over 7 decades.
9. All the Small Things – Blink-182
Album: Enema of the State
Released: 1999
Blink-182 is, in my opinion, the greatest-ever punk rock band. They have lots of great songs that a new band can learn, especially if you are into the punk genre. However, their songs might be a bit much for someone who is not a fan.
10. Let It Be – The Beatles
Album: Let It Be
Released: 1970
One more song that has to be included from The Beatles is "Let It Be". This beautiful track has a slower pace and a more emotional feel to it. Not only are songs by The Beatles relatively easy to learn, but crowds will also love them, they are easy to sing along with, and they come with a beautiful message that everyone can learn from.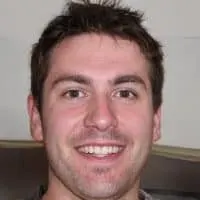 Alex is a man of many talents. He's been playing music since he was young, and has been the main content writer at Tone Start for the past few years. Alex loves to play around with different styles of music and enjoys listening to anything from country to classical.