Share on facebook
Share
Share on twitter
Tweet
Share on pinterest
Pin
There are a few words in the history of pop music that have been used so much that they have become ubiquitous. The word "baby" is certainly overused by crooners singing to their love; everyone from The Beatles to any modern-day trap artist has sung about "money"; and for some reason, every boy band and teen pop sensation has a song with the word "you" written like this: "U."
The color blue has long been a staple in the history of popular music and references to the color pop up in many songs. There is even an entire genre of music named after the color.
It's been used to allude to sadness, one of the colors of the American flag, as a drug reference and as a metaphor for a number of other things. The songs on this list do not encompass every iteration of the use of the color, but it's a wide sampling of the different uses of the word in pop music.
Here is my list of the top songs with blue in the title!
1. Blue Lights – Jorja Smith
The blue lights in this song fade from strobe lights at the club to the flashing lights of a cop car.
This young English singer, who rose to prominence on SoundCloud, smartly utilizes a Dizzee Rascal sample to great effect on her ballad to the tragedies possible in drug culture.
The song woozily weaves like some drug haze induced bad dream and warns of what could happen if you get caught up on the wrong side of the law.
2. Blue (Da Ba Dee) – Eiffel 65
Is it a novelty track, a joke, a lost bet, or is there some secret message somewhere in there? Is it about depression and loneliness, is it about marijuana laced with PCP (as was the rumor at some point), or some other more philosophical notion like the alienation inherent in being human?
There was no end of speculation about this strange song and is perhaps a source of its strangely enduring nature.
3. Blue Cheese – 2 Chainz (Feat. Migos)
2 Chainz renders all speculation to drug references unnecessary in the first few moments of this song as he states from the outset that the song is about sipping Codeine all night.
The blue cheese in the title is a reference to the anti-counterfeit blue stripe in newer American currency. This newness of the money underscores his status as neveu rich and the blueness of the money points to the authenticity of his wealth. It's a new space for him to be in as he's come from "rags to riches."
The song bobs along in a contemplative way, giving 2 Chainz the opportunity to contemplate his situation. It's ultimately a song about someone who got used to going without who ends up getting everything he ever dreamed of.
4. Blue – Beyoncé (Feat. Blue Ivy)
This song keeps it in the family and not only is it about Beyoncé's daughter Blue Ivy, but it also features her sweet, tiny voice in the outro.
The song is a promise, an ode, and an invitation. It sees Beyoncé at her most tender, protective, and parental, inviting her daughter to hold onto her. It is the offer that every loving parent makes to their child and Beyoncé captures the sentiment beautifully.
5. RACKS BLUE – Future
This hip-hop track is melancholy and mournful. The piano keys urge the song forward and the lyrics are somber in nature.
Future is bemoaning the problems caused by having too many diamonds in his two-tone blue watch, (going color blind) and what to do with all the blue hundreds and blue thousands he's earned.
This 2018 song successfully embodies the history of blues and the famous sentiments of Biggie Smalls in a later day context.
6. Blue Notes – Meek Mill
Meek Mill waits for the sample to play for almost a minute before he makes his presence known. But he seems completely at home behind the doleful blues lead licks. His frantic flow dodges in and out of the kick drum and twists serpentine around the relentless beat.
He takes a breath every few bears and mercifully allows the listener to catch their breath as well, before jumping back into it. By the time the track ends, everyone involved is exhausted.
7. Blue World – Mac Miller
The opening sample is from a 1951 song by The Four Freshmen, a jazz vocal ensemble that seems so out of place in a Mac Miller song that they almost come out the other end as a perfect fit.
The stuttering production sounds like everything from a ray gun to a fritzing out iPhone and Mac Miller offers his typical hazed out, lazy, head-nodding flow.
The various risks on the song combine for a very listenable track featuring the late Miller being thoughtful and reflective rather than brash and cocky. It's a nice change for the rapper and it almost makes me wonder if he might have ended up heading in this direction eventually. I guess We'll never know.
8. Blue – Zayn
The song is chilly in its production and has zero urgency to move forward. It wallows in the Coldplay piano chords while Zayn's voice becomes more and more effect-heavy.
There is something piercing about where the vocals are placed in the mix, like a hammer trying to smash through a sheet of ice.
9. BLUE – Tiësto (Feat. Stevie Appleton)
The beat is frantic for a love song but subdued for a Tiësto, which puts the song squarely into mid-tempo ballad territory. As far as mid-tempo ballads go, it's pretty good. The Dutch DJ acquits himself well in this collaboration with Stevie Appleton.
10. True Blue – Madonna
This song, according to Mr. Pink in Quentin Tarantino's Reservoir Dogs, is about "a sensitive girl who meets a nice guy," which is maybe a bit of an oversimplification. (Let's not even get into what "Like a Virgin" is about.)
The song is really about someone who hasn't been willing to give her whole heart to someone before. It's about that feeling when you finally allow yourself to feel love and express it honestly for the first time after you've been faking your way through relationships for so long. When you meet someone who "fits like a glove," things can get confusing or strange, but for the first time, the emotions are real.
It is on that simple premise that this 80s hit still has resonance.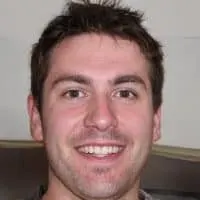 Alex is a man of many talents. He's been playing music since he was young, and has been the main content writer at Tone Start for the past few years. Alex loves to play around with different styles of music and enjoys listening to anything from country to classical.