Martin Guitar Standard Series Acoustic Guitars, Hand-Built Martin Guitars with Authentic Wood D-18 Natural
PROFESSIONAL SOUND: Martin's Standard Series guitars combine authentic wood, like sitka spruce, mahogany, ebony, rosewood, and more, with innovative bracing, a variety of body styles, and handmade detailing to deliver rich resonance, classic tones, and a professional sound. Add our premium guitars to your touring lineup, studio gear, or instrument collection.
PREMIUM HANDMADE GUITARS: Handmade from the highest-quality materials, Martin's Standard Series guitars are built to stand up to late-night jams, long studio sessions, and plenty of picking. These solid-wood acoustic guitars deliver classic designs, professional sounds, and enjoyable playing.
The Martin D-18 has a simple design and a heart-touching tone. The price of this acoustic gem ranges from $2,500 to $3,400, depending on the modification.
In this review, I am going to have a look at the Natural dreadnought design, which is also the most affordable.
After scrutinizing its sound, playability, and build quality, I shall compare it to one of its most viable alternatives – the Martin D28.
Let's check it out.
Overview
The Martin D-18 Natural showcases a vintage dreadnought design coupled with rich and full tonality. Although this is an acoustic guitar, electronics can be attached optionally. The 25.4″ scale and 14-fret body size make this instrument a bit challenging for smaller-framed players.
The dovetail neck joint is present on D-18, along with a forward shifted X-bracing pattern. The solid Sitka spruce top and the mahogany back and sides guarantee that this guitar's tone will only get more profound and mature over the years. On the whole, Martin D-18 is made to last a lifetime.
Specifications
Body
Body Size: D-14 Fret
Top Material: Sitka Spruce
Top Finish: Gloss
Top Inlay Material: Multi-Stripe
Back and Sides Color: Dark Mahogany
Back and Side Finish: Gloss
Back Material: Genuine Mahogany
Side Material: Genuine Mahogany
Binding: Faux Tortoise
Rosette: Old Style 18 Multi-Stripe
Brace
Brace Size: 5/16″
Brace Shape: Scalloped
Bracing Pattern: Forward-Shifted X-Brace
Brace Material: Sitka Spruce
Bridge
Bridge Style: Modern Belly – Drop in Saddle
Bridge String Spacing: 2 5/32″
Bridge Material: Ebony
Bridge Pin Material: Black Plastic
Neck
Neck Shape: Modified Low Oval
Neck Material: Select Hardwood
Neck Finish: Satin
Design: Dovetail Neck Joint
Scale Length: 25.4″
Pickguard / Nut / Saddle
Pickguard: Tortoise Pattern
Nut Material: Bone
Saddle: Compensated Bone
Saddle Radius: 16″
Fingerboard
Number of Frets: 20
Fingerboard Inlay Material: Abalone
Fingerboard Width at Nut: 1 3/4′
Fingerboard Material: Ebony
Fingerboard Width at 12th Fret: 2 1/8"
Headstock & Tuning Keys
Headstock Shape: Solid with Square Taper
Tuning Machines: Nickel Open Gear
Other
Electronics: Optional
Case: Ply Hardshell
Left Handed Availability: Yes
How It Sounds
Without exaggeration, the Martin D-18 is one of the best-sounding acoustic guitar in the world. It is as loud as a full dreadnought is expected to be, yet it's capable of astounding harmonic complexity.
The superb mid-range pump is well-complemented by a balanced bottom end. The forward scalloped bracing delivers an excellent bass with a projection that could last for as long as you need it. All of these characteristics make D-18 very suitable for band playing.
Check out this fantastic video showing the superb tone of the D-18:
Playability
This is a big guitar with a peculiar character. It promptly responds to different levels of attack without losing its even tone. Martin D-18 lends itself accurately to a wide variety of music styles.
However, its 14-fret size can be a challenge for smaller-framed fingerpickers. On the subject of versatility, I must say that Martin D-18 can go all the way from a loud boom to a soft whisper.
Build Quality
The build quality is what makes all Martin dreadnaughts yardsticks in their own right. Previous D-18 modifications feature the standard scalloped X bracing, whereas the MD18 Natural boasts a revolutionary forward-shifted X scalloping. The tortoiseshell binding matches the pickguard and adds a classy finish to the guitar's overall look.
The vintage-looking enclosed tuners have been replaced by nickel ones with butterbean knobs. The neck is made of a single piece of mahogany and connects to the body with a dovetail joint, exemplifying a superior craftsmanship level.
What Others Are Saying
Fingerpickers from around the world are unable to find adjectives strong enough to describe this pearl in Martin's acoustic collection.
One enthusiast writes that since the moment he got his D-18, he's had a hard time putting it down. That's how playable the thing is. Another guy gives far more practical advice about stringing: a phosphor bronze set of 12″s will show the full potential of your Martin D-18.
Pros and Cons
PROS 👍
Many parts of the Martin D-18 are handmade
Solid mahogany back and sides
Solid Sitka spruce top
Innovative forward-shifted X scalloping
CONS 👎
Martin D-18 vs D-28
Here are the differences between these two models that primarily affect their tone.
Body
The D28's back and sides are made of rosewood, whilst that of D-18 are all mahogany. Mahogany's porous structure accounts for D18's warm sound. As Rosewood is harder, D28's sound is more articulate.
Bracing
Compared to D28's standard X brazing, the scalloped forward-shifting bracing of D-18 increases the bass response.
Look
Martin D-28's Grover tuners convey an air of modernity, while D-18's tuners are old-style open-gear ones.
Price
With a retail price starting from $3,000, Martin D-28 is a notch pricier than D-18.
Frequently Asked Questions (FAQ's)
In the paragraphs below, I am going to answer five of the hottest questions about Martin D-18.
Is the Martin D-18 worth it?
In view of its superb build quality, rich tone, and versatility, Martin D-18 is worth every cent you are going to pay for it.
What is the difference between the Martin D-18 and D-28?
In terms of price, D-28 is more expensive. In terms of tone, the 28-style series has a crisper and brighter tone, while the D-18's mahogany back and sides account for a richer and deeper tone.
Does Martin still make the D-18?
Yes, the company still makes its 18-style series. The latest upgrades to the design happened in 2017: a new low oval neck and a highly effective neck taper.
For more information on Martin guitars please click here.
When was the Martin D-18 made?
The year was 1857. The first D-18s featured 12-fret necks, solid spruce tops, and their backs and sides were made of rosewood.
How much does the Martin D-18 weigh?
A standard Martin D-28 weighs 22 pounds.
Conclusion
Martin D-18 is an excellent acoustic guitar for experienced fingerpickers. Being a full-sized dreadnought, it is loud enough for most clubs. However, if you are up to some big-hall performances, perhaps you should buy a D-18E – the electronic acoustic version.
D-18's design has been evolving since the mid-1850s. Today, its signature feature is the forward-shifted scalloping of the brace.
Thanks for checking out my review on the Martin D-18.
If you have any questions in regards to the D-18 please leave a comment below and I will get back to you as soon as possible.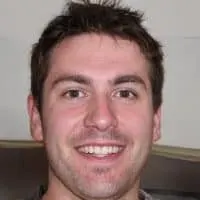 Alex is a man of many talents. He's been playing music since he was young, and has been the main content writer at Tone Start for the past few years. Alex loves to play around with different styles of music and enjoys listening to anything from country to classical.